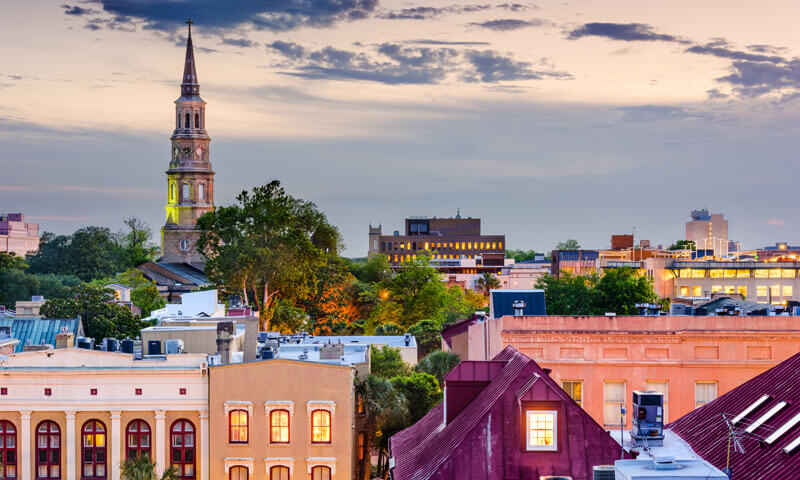 Growing up in South Carolina, most of my teenage years were focused on finding a way out. After college graduation, I immediately set my sights on Washington, DC; and within several weeks, I was living on Capitol Hill, thrilled by the culture, politics, and lifestyle. After four years, I moved to Atlanta. Although I was ready to get out of the political arena, I wasn't ready to move back to my home state, as I was certain only boredom and a mediocre lifestyle awaited me.
After five years in Atlanta, serving as Recruiting Manager for one of the nation's
largest law firms
, I took a hard look at what professionals in the legal environment are looking for and realized that South Carolina had become a place where they could find it. Attorneys are looking for a balance; sophisticated work and client base while enjoying their quality of life. South Carolina's cities have undergone major development and continue toward future growth. As a result, it is able to offer the lifestyle that in the past many attorneys could only find in major metropolitan cities.
Atlanta is not the only place to practice law in the South. We are seeing more and more attorneys attracted to the sophistication and growth opportunities in the Southern states, especially South Carolina. Firms in the state are growing not only by the addition of lateral attorneys, but by mergers and the opening of satellite offices by national and international law firms. South Carolina's major cities are all focusing on growth, improving quality of life, and putting millions of dollars into their development. The industry brought into the state creates a need for more attorneys, attorneys who are diverse in their backgrounds and can bring sophistication to existing practices. Hot practices in real estate, health care, IP, labor and employment, and construction are looking to grow.
Columbia, the state's capital and largest city, is living history and home to nine colleges and universities. Although the city's big business is government, the universities' presence has produced a thriving downtown scene. Among the more popular areas are the trendy shops in Five Points and the posh restaurants in the Vista. Columbia has mild winters and long summers, so the residents are active and enjoy outdoor activities and culture year-round. Columbia is only three short hours away from the coast and is close to several state parks. Lake Murray, only a few miles outside of Columbia, attracts many South Carolinians throughout the summer. Culturally, the city has much to offer, with a Museum of Art, Botanical Gardens, and the impressive Riverbanks Zoo, which is ranked among the top 20 in the country.
In Greenville, the moderate climate, along with its strategic location between Charlotte and Atlanta, has been a steady draw for residents. However, with a growing economy and the expansion of business, attorneys are taking a second look at professional opportunities. Greenville, which has been pegged the "Rising Star of the South," provides residents with the charm of a small town, while offering the conveniences of a larger metropolis. Over the last 10 years, downtown Greenville has prospered, with the opening of the Peace Center for Performing Arts, the Bi-Lo Center arena (home to the first professional hockey team, the Greenville Grrrowl, and big-name stars the city was once too small to host), along with a vast array of restaurants offering cosmopolitan cuisine. The state has long been known for agriculture and textiles; however, the opening of the BMW plant in Spartanburg and future opening of the International Center for Automotive Research has brought recognition to the state for new industries.
The coastal city of Charleston is renowned for its elegance and Southern charm. The city, three centuries old, has estates that were established long before the Revolutionary War. Little palm trees scattered around provide South Carolina the nickname "The Palmetto State." Charleston offers carriage tours through the famous historic sites, churches, and stately homes that dot the streets and line the intercoastal waterway. You can also step back in time and visit Fort Sumter, the Civil War memorial. There are three famous public gardens a short car ride away: Magnolia, Middleton, and Cypress. Of course, Charleston is home to many seafood lovers and tourists who crave the dishes that can only be made by local chefs. Once a year, people from all over the country come to enjoy the Spoleto Festival, a 17-day event that occurs each spring, filling historic theaters, churches, and outdoor spaces with more than 120 performances by celebrated artists. It also includes emerging performers in disciplines including opera, theater, dance, symphonic, and jazz music, as well as the visual arts. Considering everything this tourist attraction has to offer, the cost of living is relatively low, and job opportunities are abundant. It can be difficult to break into South Carolina's mostly conservative
legal market.
In the smaller cities, the majority of attorneys know each other. However, Charleston attracts lawyers from all over the country who tend to stay.
South Carolina houses satellite offices for many national law firms, as well as regional and boutique firms. South Carolina does not accept reciprocity, so attorneys from other states will have to sit for the bar. Many South Carolina firms have their own summer programs and hire their first-year attorneys straight out of law school. Because these firms are aiming to expand, there is a continued interest in partners with portable business.