11/20/15
Law Firms are Improving Their LGBT Employee Policies
Summary
: After the most recent study from the Human Rights Campaign was released, it is clear that more law firms are making efforts to make their firms a place of equality for all.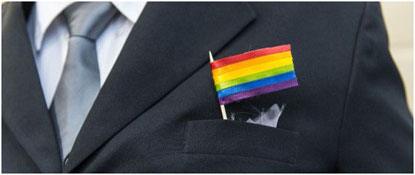 Large law firms and companies are adopting better policies for employees that are gay, lesbian, bisexual, and transgender, according to a recent evaluation by the Human Rights Campaign. The annual Corporate Equality Index looked at 156 law firms to gather their results.
Of the firms asked, 95 of them scored perfect, compared to 87 scoring perfect last year. Additionally, nine firms scored 95 percent, ten firms scored 90 percent, and the rest of the firms except six scored 80 percent or higher.
Director of the Workplace Equality Program at the Human Rights Campaign and co-author Deena Fidas is happy about the numbers, "This is a high number. We've seen tremendous leadership and also what can be characterized, in a positive way, as hyper competition amongst the firms.
A majority of the firms with a perfect score were the same as last year, but there were a few that have made significant efforts to improve.
Quinn Emanuel Urquhart & Sullivan
raised their score from a 60 last year to 95 this year.
Baker, Donelson, Bearman, Caldwell & Berkowitz
also increased their score from an 85 percent last year to a perfect score this year.
The biggest difference in the policy at Quinn Emanuel was from their added sexual orientation and gender identity non-discrimination protection in the employment policy. They also implemented a transgender-inclusive healthcare coverage program.
Just some of the criteria a law firm must exhibit in order to receive a perfect score are to demonstrate an exceptional non-discrimination policy, offer equal benefits to same-sex partners, and fully train employees on gender identity and sexual orientation topics. A new criteria is requiring outside contractors to follow the firm's policies and not allow firms to donate money to any non-religious organization that discriminates against LGBT people.
One flaw with the ranking is if a firm does not provide data, the Human Rights Campaign uses the most recent data available, which may be out-of-date from their actual policies.
Source:
http://www.americanlawyer.com/id=1202742820853/More-Firms-Earn-Top-Marks-in-Annual-LGBT-Equality-Rankings
Photo: huffingtonpost.com
Want to read more law firm news?
For past editions of our weekly law firm news, click here.
---
Contact Our Recruiters Now!