What's your book?' is a question we recruiters regularly ask our senior candidates looking to make a move. The answer firms want to hear is, at least, '1.5 million.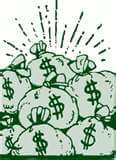 "What's your book?" is a question we recruiters regularly ask our
senior candidates looking to make a move
. The answer firms want to hear is, at least, "1.5 million." That figure may sound intimidating to you if you're just beginning your legal career but it's an important goal to keep in mind for several reasons.
First, your stability as an attorney in a large firm is directly proportional to the amount of business that you bring in. The more business you bring to your firm, the better your chances are that you will be allowed to stay. Despite glossy brochures touting pro bono programs, law firms are business machines driven solely by the bottom line. You may be a terrific legal writer with enviable courtroom presence, but if you're not bringing in business by the time you're a 6th-8th year, your position at your firm becomes precarious.
Second, with a book of business comes leverage and with leverage comes options. "Up or out" is a
phrase we often hear to describe the progress of attorneys within their firms' hierarchy
. If you are moving "up" that means that you are developing business contacts and bringing in clients while billing the requisite hours and producing sound work.
For those attorneys that have failed to move up and keep pace with their business developing peers, then they will be pushed out. The career lifespan of a big firm associate is relatively short, about 8 years, so it is extremely important to start developing business as soon as you know what a stipulation is and how to get one. Having your own book of business gives you leverage in your partnership negotiations and it gives you options should those negotiations leave you wanting.
Third, building a sizable book of business will earn you the respect of your colleagues. It shows that you understand that new business is the life blood of your firm and that you're willing to make that extra effort to keep it pumping. Given the competitive market and the daily mega-mergers, it may come to be that "of counsel" and "non-equity partners" become relics of a bygone era. Making the extra time to network shows your firm that you're committed to them which will, in turn, make them commit to you.
Fourth, building your book is not only financially rewarding, but also personally satisfying. One of the junior partners I used to work with at my old firm was a dynamo at bringing in new clients. He took pride in his talent and felt that it helped make up for some other areas of his practice where he wasn't as strong. Plus, working on your own cases that you personally staked gives you some freedom and elbow room. In many cases, you will be the senior decision-maker which can be a very empowering experience.
Finally, building your book doesn't have to be drudgery. With the advent of Facebook and LinkedIn, it's become easier to re-connect with old contacts while developing new ones. So seek out your former classmates, take them to the Watergrill and get cracking!
(Check out the following website for some excellent tips on how to develop business:
http://www.clientfocus.net/
)