''Go on, take the money and run''
-Steve Miller Band
In this current lateral market, unless you are planning on bringing a self-sustaining book of business to your new firm, be careful when negotiating your offer. The following story, which I heard from a friend at another recruiting firm in the mid-West, drives this point home very well.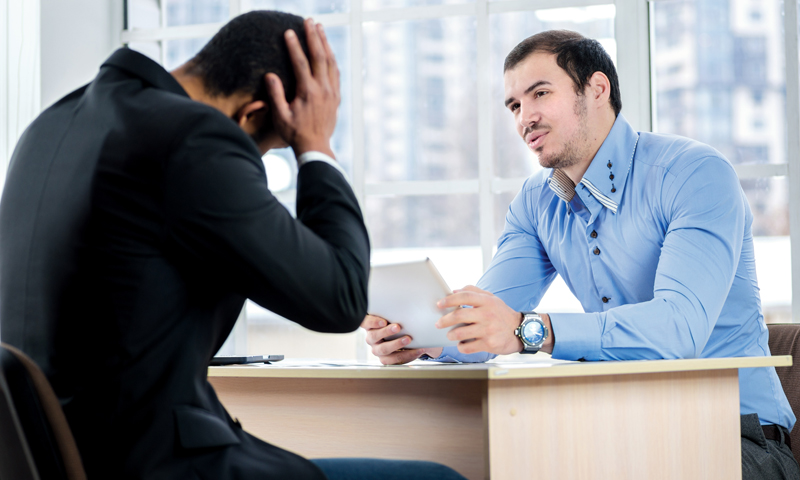 An Unexpected Negotiation Outcome
My friend was working with a counsel-level candidate who went through the interview process at a large firm. This candidate did not have a particularly large book of business, but specialized in an area that is very in-demand. This candidate received an interview with a firm that had been looking - for a long time - for somebody with this particular skill set. While the candidate's book of business was on the low end, the skill set was in demand, which made the lower book of business less of an immediate issue.
Fast-forward a few weeks, and interviews went very well. Great synergies, talking about mutual clients, and the platform really seems to be ideal for the candidate. Likewise, the candidate's skill set seems ideal for the firm. While the portable business is still lower than expected, this seems like a very good fit and the potential to develop business is clear.
Around this time, the firm starts the due diligence process and checking the financials. Despite the low book of business, the other elements seem to be enough to get the green light for an offer.
Fast-forward a few weeks. References are checked, they clear with a breeze, and all looks good.
The firm makes an offer, but it was as Counsel, not Partner. The candidate really liked the firm, but was hoping for a partner title (non-equity or contract partner was fine, so long as he has the Partner title).
At this same time, the candidate received an offer from a second firm, and this offer was with a non-equity title. At this point, it seemed reasonable to go back to the first firm to see if they could change the title to contract partner in order to make the offer more attractive.
The candidate decided to ask the first firm if they would consider the partner title. At this point, the relevant partners (who were strongly in favor of hiring this person) agreed that this made sense and sent the proposal for the revised offer to the hiring committee. It seemed very likely that the first firm would match the other offer, as they did not want to lose him. This is when things took a turn.
The revised offer caught the attention of a few partners that previously had not made any objections to this candidate. Now - in the context of a counteroffer, where there seemed to be competition with other firms - there was much closer scrutiny from a contingent of partners in the firm. While common wisdom would dictate that competing offers would cause the first firm to desire the candidate even more (under the theory of ''that which may be lost becomes more desired''), this did not quite turn out as planned. Given the economic crisis and focus on saving costs, some partners became concerned about hiring this candidate, even though the offer had previously been extended.
Discussions (heated) among the hiring committee ensued and questions (accusations) such as, ''Why are we hiring this person right now in this economy?'' started to spear. Before long, a power struggle developed: those in favor of hiring versus those against.
What happened next was unexpected. After deliberation, the firm decided that, upon further reflection and in light of the economy, the original offer probably should not have been extended. The firm apologized profusely, but told this candidate that the entire offer was rescinded. Off the table. Caput. The candidate was understandably taken aback and very upset.
Had the candidate simply accepted the original offer, this outcome would have likely never occurred. By negotiating, the candidate gave the firm an opportunity to reevaluate the offer and, in this case, the offer was taken away. Was this an unfortunate - though understandable - gamble by the candidate? Or maybe it was fate's way of intervening and the final outcome was best for everybody involved.
I understand that this story is quite extreme, but it is not an isolated incident in this market. As we have seen, a growing number of firms have rescinded offers to summer associates or first-year associates due to the economy. This happens much less frequently on the lateral side, but it does happen.
My Home-Selling Experience - Learning the Hard Way
Speaking on a larger level, I think one of the most difficult challenges for candidates right now is truly accepting that times have changed. Since the market is in an uncertain place, previous reference points on what's a ''good'' offer or a ''bad'' offer are no longer accurate. The value is what the market will offer.
I learned this lesson the hard way when I was selling my house this past summer (of '08). My realtor told me the market value was $625,000, based on recent sales. At the same time I was about to put our house on the market, one of my neighbors - who has the exact same model - walked by and mentioned that she was planning to sell hers as well. I asked how much, and she said, ''$674,000.'' I was planning on selling ours for $634,500, but when I heard that she was listing it for $674,000, I thought we were underselling. Despite our realtor's assessment (based on recent sales) I told her, ''I want to list ours for $646,500.'' She asked why, and I told her about the home up the street that was listed at $674,000.''
She replied, ''Dan, listing prices are fantasies . . . closed sales are reality.'' Since I tend to be stubborn, I didn't listen. I was greedy and wanted the price I think I should have been able to get in late-2007. I was in denial about the harsh reality of the real estate market, and simply didn't want to acknowledge that times changed. I thought that I was being smart by pricing it higher, and leaving some room to come down.
We listed it at $646,000 and our first offer came in a few weeks later at $615,000. I was insulted. Thinking back, we should have given the buyer a hug and a kiss. But we countered with $630,000 and shortly thereafter Lehman Brothers fell apart and the economic crisis began. The buyer got cold feet and walked away. This was similar to what happened to the candidate mentioned above.
Without going into any more detail here, we finally sold the house a number of months later for $590,000. I am firmly convinced that if we listed the house at $625,000, as originally advised, we would have sold it for about $30,000 more, as the house would not have ''lingered'' on the market as long as it did. My problem was that I didn't want to face the reality of the new real estate market, and I had outdated definitions of what my house was really worth. It was the summer of 2008 and I was still mentally stuck in 2007.
How is this relevant to you? Don't get hung up on what you (or your ego) think you should be worth now. The market value right now is what a firm (or firms) will pay for your experience. Nothing more, nothing less.
Conclusion - Go On, Take the Money and Run
In closing, with the exception of candidates who have self-sustaining books of business that they can bring to their new firm, it's important to understand that negotiations can backfire much more easily right now. Like the initial buyers of my house,
law firms
can get cold feet very easily. This is not a time to be greedy, and the phrase ''penny wise and pound foolish'' is more relevant than ever in this context. Anybody who knows me will tell you that I am not the type of person who advocates just rolling over and taking the first offer due to fear of losing it. Nobody wants to settle and feel like they are leaving money or opportunity on the table. That being said, if you get a reasonably good offer, and it's the only one you have (or at the firm you really want), heed my advice: Go on, take the money and run. I wish I did.