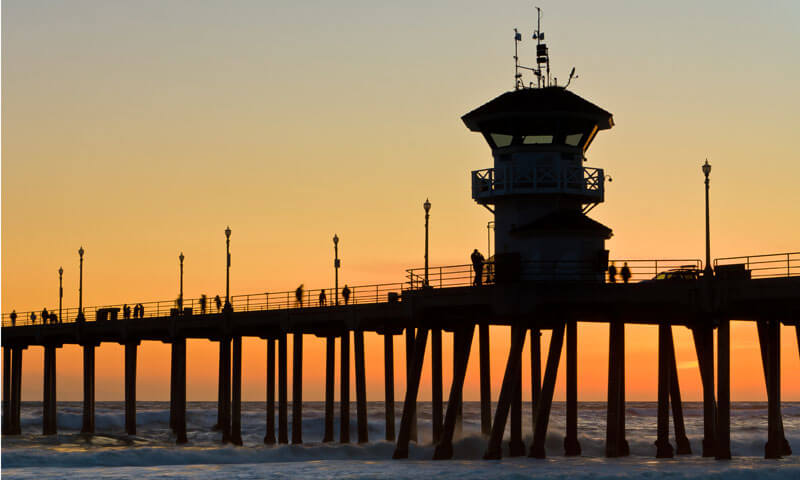 The legal community in Orange County is divided evenly between traditional and lifestyle. Like the county itself, the market is a mix of the hip and conservative. While there are many varying sizes of preeminent firms housed in Orange County, the largest firm has only a hundred attorneys. Orange County is in the midst of a bull cycle. We are already seeing unprecedented growth in litigation, real estate, corporate, and IP. The market is hot and getting hotter.
Home to the nation's most exclusive neighborhoods, 2002 World Series champs the Anaheim Angels, and John Wayne Airport, Orange County sits on a long stretch of beautiful coastline, hidden by natural wharves. The second most populous county in California, Orange County is legendary for its surfing and beach culture. Known as Surf City, Huntington Beach, one of many beach towns along the 42-mile coastline stretch, is home to the International Surf Museum as well as the Surfing Hall of Fame. Coastal horizons surround the scenic Pacific Coast Highway, idealized by Kerouac and Steinbeck. It remains one of the last stretches of undefiled American frontier.
After the sun sets and the weather cools, 2J's Cocktails in Fullerton offers a down-to-earth, sports bar atmosphere, along with live dance music and DJs. After the kitchen closes at Habana's in Santa Ana, the bar serves up an intimate, classy atmosphere and salsa music.
Known as the birthplace of the medical-device industry, biomedical technology is a giant in Orange County.
Law firms
dealing with life sciences, biomedicine, pharmaceutics, or medical devices are experiencing a tremendous upswing lately.
With the strength of the market, firms are seeking added resources. While always receptive to out-of-state attorneys of good pedigree, most firms will require the California bar. Partners with strong
portable business
are in great demand. Orange County firms are actively seeking candidates with top-tier law school credentials or big-firm experience.
Annually, Orange County residents can expect 342 days of sunshine, giving them plenty of time to hone their golf games on the area's 50 luxurious courses. The Disneyland theme park, the original "Happiest Place on Earth," is located in Anaheim. Disney's newest theme park, California Adventure, is right next door. In all, there are 10 major amusement parks in Orange County, including Knott's Berry Farm in Buena Park and Wild Rivers Waterpark in Irvine. From catching a Mighty Ducks game at the Arrowhead Pond to spending the day at any of the dozens of luxurious four star spas, the O.C. has more to offer than picturesque Pacific sunsets.