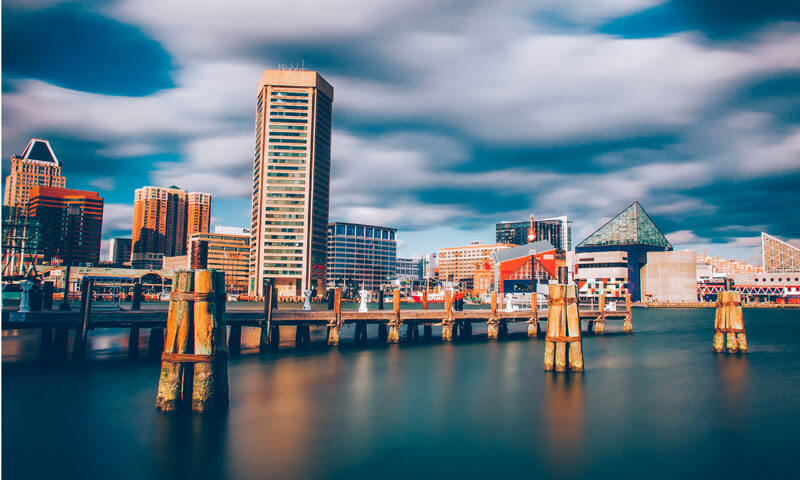 While Baltimore may have a relatively small legal market, especially when compared to neighboring Washington, DC; it is the ideal locale for an attorney who desires both to work at a top firm and to enjoy an enviable quality of life. Some of the nation's preeminent firms have offices in Baltimore, including Wilmer Cutler Pickering Hale & Dorr, LLP; Hogan & Hartson, LLP; and Piper Rudnick, LLP. They offer desirable opportunities for litigators and transactional attorneys alike.
It is difficult to make any generalizations about Baltimore (pronounced by locals as "B'more"). If you are a fan of HBO's crime drama
The Wire
, then you already know that Baltimore is a port city. The Wire, however, does not showcase Baltimore's other active ports, the marinas of the Inner Harbor and Fells Point, where weekend sailors come to dock their J30s after a long day on the Chesapeake Bay. Similarly, those who have driven through industrial Baltimore on I-95 perhaps would be surprised to learn that there are 149 thoroughbred horse farms located in Baltimore County. Some of the Baltimore suburbs, such as the magnificently landscaped Roland Park, put the most attractive DC suburbs to shame.
The Inner Harbor redevelopment of the late 1970s has been wildly successful and has served as a model for subsequent urban redevelopment projects elsewhere. (Edward Norton fans may be interested to know that his grandfather was the initiator of the Inner Harbor project.) The National Aquarium, which opened in the early 1980s to much fanfare, is truly amazing. The other notable Inner Harbor attraction is the last all-sail warship built by the U.S. Navy, the 150-year-old USS
Constellation
.
All Marylanders remember March 28, 1984, that infamous day when their beloved Colts sneaked out of town like fugitives. While continuing to pay homage to the memory of the Baltimore Colts and players like Johnny Unitas, Baltimore is ecstatic that once again it has a pro football team, the Ravens. The fact that the Ravens were Super Bowl XXXV champions is just icing. Of course, it would not be summer in Baltimore without at least one trip to Camden Yards to watch the Orioles.
For those of a more artistic or literary bent, Baltimore has more to offer than meets the eye. Walter's Art Gallery, one of a number of museums in the city, has an interesting collection of Ancient and Medieval art. Baltimore also has a fine symphony orchestra. The acoustics of the Lyric Theatre and Meyerhoff Symphony Hall are common topics of debate and discussion amongst music lovers.
Of course, Baltimore is famous for its seafood, crabs in particular. Locals, however, seem to prefer steakhouses and upscale American restaurants such as Prime Rib and Charlestown. International cuisine ranging from Afghani to Italian is also popular. While Obrycki's Crab House in the Inner Harbor is a common destination for those seeking steamed crabs, Cantlers' Riverside Inn in Annapolis is worth the trip both for the crabs and the waterfront setting.
Annapolis, the state capital, is located about 45 minutes south of Baltimore. Although there is not much of a legal market in Annapolis, many attorneys who work in Baltimore and DC live in Annapolis and its surrounding communities. They are attracted to the area by the city's charm as well as the large number of lovely waterfront properties.