05/10/19
Acclaimed California employment, labor and immigration law firm welcomes Jen Cornell as San Francisco office partner
Summary:
Acclaimed California employment, labor and immigration law firm welcomes Jen Cornell as San Francisco office partner.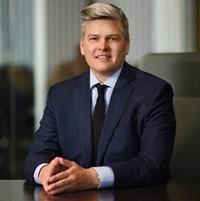 Carothers DiSante & Freudenberger LLP (CDF), a leading employment, labor and immigration law firm, proudly announces Jen Cornell has joined the organization as partner in its San Francisco office. Cornell brings more than two decades of multidimensional professional experience to her new position with CDF.  In addition to nearly 10 years practicing labor and employment law, Cornell spent 15 years as an urban structural firefighter in the Midwest, holding numerous ranks including Fire Investigator and retiring as a Battalion Chief. Her management experience in a unionized environment furthers an already well-positioned legal background for labor and employment law success.  
"Jen is a powerful addition to the firm and to our San Francisco office, as she brings with her a depth of legal experience and knowledge," said Firm Managing Partner Marie DiSante. "The combination of her professional background and the high value she places on client service reinforces our commitment to providing the best talent to protect and defend our clients."
Cornell specializes in labor and employment law, representing employers in an array of employment law matters on local and national scales – from internal investigations and complex class action litigation – to data-driven preventative audits. She has worked with clients across a broad range of industries and holds extensive experience in the technology and retail sectors. Cornell makes it her mission to provide detailed training and advice to clients in all areas of risk management and litigation avoidance, and she strives to keep clients acutely aware of the ever-changing laws that define California's challenging legal landscape.  
"I am thrilled and honored to join a team of accomplished attorneys at a firm that's committed to ensuring employers are well-protected and provided with the knowledge they need for best workplace practices," said Cornell. "I look forward to continuing my career at CDF where I can deliver the same exceptional legal service to clients for years to come."  
A Midwest native who received law degree from the University of Minnesota and clerked for two federal judges in Minnesota, Cornell devotes significant time to social causes and community involvement, underpinning CDF's commitment to diversity and inclusion.  She is an active participant in the National LGBT Bar Association, and previously served on the Board of the Minnesota chapter of the ACLU, for whom she also handled significant pro bono litigation.  In addition to serving these groups, Cornell founded the Law and Inequality Alumni Advisory Committee.
Want to read more law firm news?
For past editions of our weekly law firm news, click here.
---
Contact Our Recruiters Now!