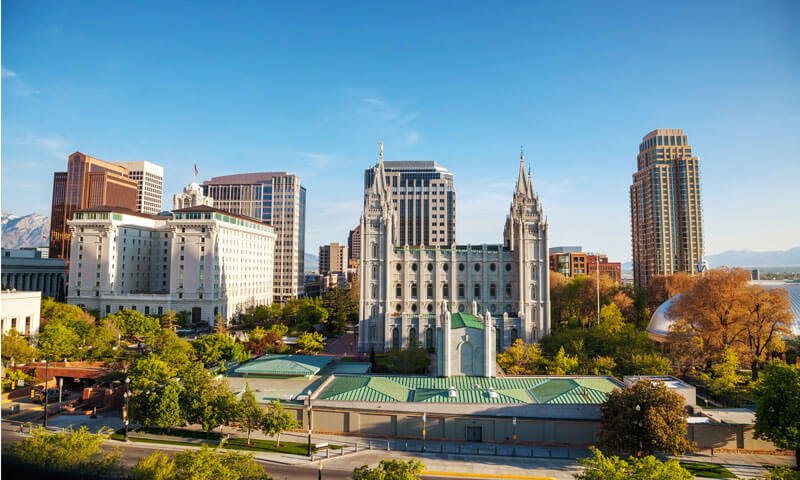 Anyone new to Utah may be surprised by its sophistication. Home to the Utah Jazz, U.S. Ski and Snowboard Associations, the Sundance Film Festival, and many large, traditional law firms, Utah is busier than one may suspect.
Utah's market has maintained its stability through uncertain economic times, but it is still competitive. We're placing a lot of junior to mid-level attorneys in real estate, litigation, and labor and employment. Right now, we're placing a very junior attorney with an IP focus in a Utah firm. Litigation and bankruptcy will be hot practices even in difficult times.
Utah is one of the best spots in the country to raise a family. The communities are close-knit and great places to settle down. Utah boasts the youngest population, one of the highest birth rates, the second-lowest death rate, the highest literacy rate, the highest percentage of high school graduates, the highest number of people with a college education, and the healthiest population for the last 10 years. Utah has one of the largest concentrations of computer software and biomedical firms. The economy of Utah is among the strongest in the nation, with an employment rate consistently a point or more above the average. Salt Lake City ranks as one of the safest cities in America. Even though it is a major metropolis, it's not crowded: the population is only 180,000 residents.
An outdoor aficionado's paradise, Utah offers hiking; biking; five enormous, majestic national parks; and "The Best Snow in the World" for the skiers and snowboarders. Less than an hour from downtown Salt Lake City are the nation's only recreational ski jumping complex, three cross country ski areas, and nine major ski resorts.
Utah's rich and colorful history comes to life with more than a hundred dinosaur museums for the kids; the alpine mountains and rugged red rock canyons, untouched since the days of the cowboy offering horseback rides along the trails blazed by Butch Cassidy; and the world's largest natural land bridge, the sacred Navajo Rainbow Bridge. Utah's recent history has been shaped by the Mormon Church. The magnificent Mormon Tabernacle and Temple Square honor the church's tradition, but for truly inspiring Mormon architecture, the Gilgal Sculpture Garden must be witnessed. Formerly a secret garden nestled behind a block of houses and businesses, the Gilgal Sculpture garden is now a one-acre public park featuring peculiar spiritual stone carvings. The North Rim of Grand Canyon National Park is in Southern Utah. Known as "Little Hollywood" for all the Westerns filmed there, it's considered to grant the best access to the Grand Canyon.
The
legal market
consists of many big firms looking for hardworking, dedicated attorneys with two to four years' experience. A degree from Brigham Young University couldn't hurt a candidate's chances either. Attorneys we've placed in Utah have expressed satisfaction with Utah's conservative legal culture.