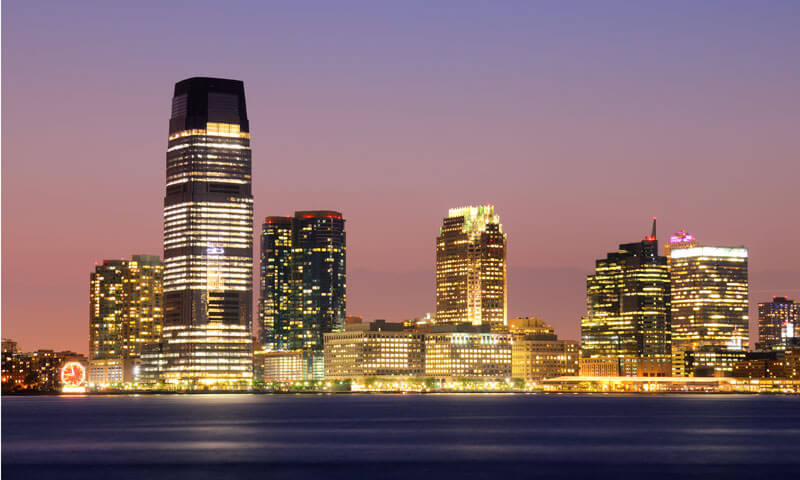 BCG Attorney Search handles placements in New Jersey's largest markets and throughout the Garden State, including Newark, Jersey City, Roseland, Morristown, Florham Park, Princeton, Cherry Hill, Red Bank, and Linwood.
Life in the Garden State
New Jersey is consistently ranked one of the wealthiest states in the country, boasting leafy and upscale suburbs, rolling fields, equestrian facilities, one of the world's most preeminent universities (Princeton University), and the headquarters for Johnson & Johnson, Merck, Prudential Financial, McGraw-Hill, Bed, Bath & Beyond, and Wyndam Worldwide among many other influential companies.
For many, New Jersey is an idyllic place to practice law and raise a family. The state offers challenging legal work, top-ranked public schools, proximity to the cultural resources of New York City and Philadelphia, historical sites dating from the Revolutionary War, and recreational attractions including the Jersey Shore, the Pine Barrens, and the Delaware Water Gap.
For attorneys who are also foodies, the Garden State offers more family-oriented and wallet-conscious fare then its neighbor across the Hudson, but without sacrificing quality or ambience. Some of New Jersey's most renowned establishments include Scalini Fedeli, the Ryland Inn, Amanda's, the River Palm Terrace, the Frog and the Peach, Highlawn Pavilion, Basilico, Park & Orchard, Serenade, and Fromagerie.
Practicing Law in New Jersey
The New Jersey legal market is divided up into three primary regions: The Gateway and Northern Region; the Western Region; and the Shore Region.
BCG recruiters work primarily with mid-sized and large New Jersey-based law firms in all three regions. Some of the firms have opened satellite offices in Manhattan and have goals to penetrate that market. Others are satellite offices of New York-based firms or of other large national law firms.
At any given time, the New Jersey legal market has available positions in a range of practice areas. BCG's current New Jersey job listings include an assortment of litigation positions, including those focused on general commercial, complex civil, environmental, insurance, labor and employment, and intellectual property matters. There are also listings for general corporate, securities, M&A, private equity, consumer financial, public finance, real estate, commercial leasing, trusts and estates, health care and education law attorneys. Several N.J. firms are also looking for patent agents.
Many of the open positions are for junior to mid-level associates. However, with so many larger firms opening satellite offices in New Jersey, firms are always interested in partners with business (minimum of $500K, less for less-developed practice areas).
New Jersey's Northern and Gateway Region
New Jersey's Northern and Gateway Region includes cities like Newark, Secaucus, Union City, and Jersey City – located across the Hudson River from New York City – as well as Roseland, Morristown, Florham Park, Phillipsburg, Fort Lee, Hackensack, and Rochelle Park.
The Northern and Gateway Region is home to Liberty State Park and Ellis Island, the historic site that has represented "new beginnings" to millions of immigrants. The cultural diversity of this region is represented through a wide array of museums, including Tenafly's African Art Museum, the Zimmerli Art Museum in New Brunswick, and the Newark Museum.
This region also is home to Liberty Science Center, with the nation's largest IMAX Dome Theatre. Performing arts fans can visit the Paper Mill Playhouse, the New Jersey Performing Arts Center, and the John Harms Center for the Performing Arts.
New Jersey's Western Region
New Jersey's Western Region includes Princeton in Mercer County and Cherry Hill in Camden County.
The two main areas in New Jersey's Western Region are Princeton, the home to the thriving intellectual center of Princeton University as well as to one of the best public school systems in the country. Bristol-Myers Squibb, Janssen Pharmaceuticals, Lockheed Martin, Dow Jones and the Educational Testing Center are all located in the Princeton area.
Princeton is also home to the New Jersey Governor's mansion and the historic Princeton Battle Monument.
Rounding out the state's Western Region is Cherry Hill and other parts of Camden County, which is located just across the Delaware River from Philadelphia. Along with the obvious attractions of the City of Brotherly Love, these areas offer the chance to live and work in a quieter, family-friendly, suburban environment.
New Jersey's Shore Region
New Jersey's Shore Region covers all areas along the state's Eastern Seaboard, including Red Bank, Freehold, Atlantic City, and Linwood.
If you're a fan of water sports and white beaches, you will love New Jersey's Shore Region. All along the 127-miles of coastline are quaint fishing communities and active boardwalks, including the popular Atlantic City boardwalk, with its 24-hour gaming, casino resorts and fine dining. At the Southern tip of the state is the picturesque seaside town of Cape May, with its renowned Gingerbread houses and Victorian-styled architecture.
The Shore Region offers many cultural venues, including concerts and music at the Great Auditorium and headline performers at PNC Bank Arts Center. Beach lovers rave about being able to live near natural beauty yet have easy train access to Newark, Manhattan and Philadelphia.  
Click Here
to Submit Your Resume to BCG Attorney Search!
BCG Culture of Excellence in Recruiting
BCG recruiters have extensive experience throughout New Jersey and have successfully placed candidates with the best law firms in the state. Many of BCG Attorney Search's N.J.-area recruiters are attorneys themselves, with law degrees from top law schools and experience working in top firms. BCG recruiters know what it takes to excel and we know what law firms are looking for in the candidates they hire.
The BCG Approach – We Stay With You All the Way
Unlike other recruiting firms, BCG recruiters take great care to get to know each of our candidates face-to-face. We want to get to know each candidate personally and go far deeper than what is revealed by facts on paper about a candidate's academic achievements or work history. We walk our attorneys through every step in the recruiting process, including ensuring candidates learn as much as possible about each firm and are thoroughly prepared for interviews. We also follow up after each interview with both the attorney and the law firm to make sure everything went smoothly and troubleshoot any issues.
Moreover, BCG maintains a strict Code of Conduct. We believe that confidentiality must be maintained at all times and we do not share any information about an attorney with any law firm unless the attorney has given us permission to do so.
Attorney Placements in New Jersey and the Entire World
BCG recruiters have established lifelong relationships with firms in New Jersey and throughout the world. Our recruiters are constantly studying market trends and strengthening relationships with law firms. We take the time to understand each firm's unique culture and expectations and to keep current with what each firm is looking for at all times. We want every placement we make to succeed and we always strive to exceed expectations with our professionalism and work product.
Additional Links to Resources
A list of recent BCG Attorney Placements may be found at:
https://www.bcgsearch.com/pdf/bcgplacements.pdf
.
BCG Attorney Search State of the Market Reports
The
2016 Spring-Summer BCG Attorney Search State of the Market Report
can be found at:
https://www.bcgsearch.com/article/900046627/State-of-the-Law-Firm-Hiring-Market-Spring-Summer-2016/
The
2016 Winter BCG Attorney Search State of the Market Report
can be found at:
https://www.bcgsearch.com/article/900046373/State-of-the-Market-Winter-2016/
The
2015 Fall BCG Attorney Search State of the Market Report
can be found at:
https://www.bcgsearch.com/article/900046123/State-of-the-Market-Fall-2015/
The
2015 Summer BCG Attorney Search State of the Market Report
can be found at:
https://www.bcgsearch.com/article/900045270/State-of-the-Market-Summer-2015/
The
2015 Spring BCG Attorney Search State of the Market Report
can be found at:
https://www.bcgsearch.com/article/900044401/State-of-the-Market-Winter-2014/
The
2014 Summer BCG Attorney Search State of the Market Report
can be found at:
https://www.bcgsearch.com/article/900041990/State-of-the-Market-Summer-2014/
The
2014 Spring BCG Attorney Search State of the Market Report
can be found at:
https://www.bcgsearch.com/article/900021526/State-of-the-Market-Spring-2014/
The
2013 Spring BCG Attorney Search State of the Market Report
can be found at:
https://www.bcgsearch.com/article/900013953/State-of-the-Market-Spring-2013/
The
2012 Winter BCG Attorney Search State of the Market Report
can be found at:
https://www.bcgsearch.com/article/900007997/State-of-the-Market-Winter-2012/
The
2012 Fall BCG Attorney Search State of the Market Report
can be found at:
https://www.bcgsearch.com/article/61708/State-of-the-Market-Fall-2012/
The
2012 Spring BCG Attorney Search State of the Market Report
can be found at:
https://www.bcgsearch.com/article/61512/Newsletter-2012-Spring/
The
2016 BCG Attorney Search Guide to America's Top 50 Law Schools
can be found at:
https://www.bcgsearch.com/bcgguide/bcg_guide_titlepage.php