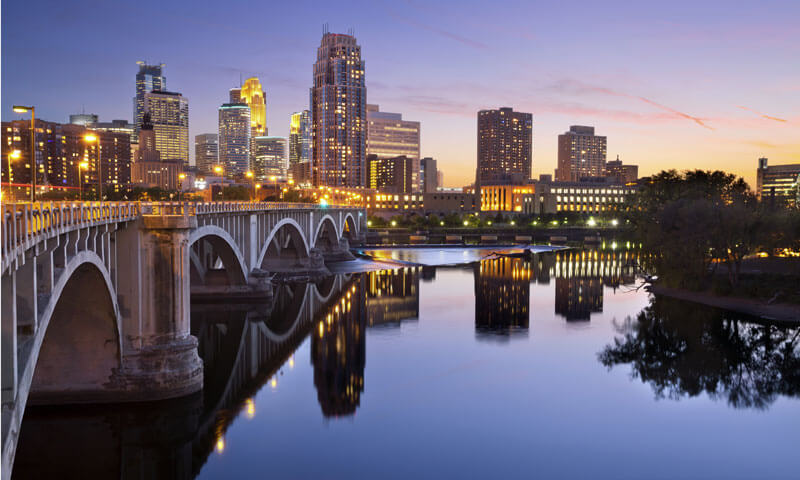 It's said that Mark Twain was the first to call Minneapolis and St. Paul the Twin Cities, owing to their proximity (less than a dozen miles apart) along the Mississippi River. Yet they are not carbon-copy twins. St. Paul, the state capital, is smaller and quieter, a sedate mid-sized city spread across gentle rolling hills. Minneapolis, on the other hand, has the nightlife, bars, and buzz of an urban oasis. The Twin Cities are pure heartland U.S.A., industrious and prosperous, heavily into sports, shopping, theater, and the great outdoors.
Minneapolis is a hotbed of technology, a center of industry and commerce, serving a large agricultural region. During the 20th century, manufacturing, food processing, milling, computers, health services, and graphic arts developed as Minneapolis' major industries. Fifteen Fortune 500 companies are headquartered in the Minneapolis-St. Paul metropolitan area. Today's major industries are predominantly invested in electronic equipment, computers, chemicals, and heavy machinery. As a result, Minneapolis'
legal market
is mostly focused on intellectual property, primarily in the area of patent prosecution. Firms have a strong need for prosecutors with technical degrees in electrical engineering, mechanical engineering, chemical engineering, and biology. There is a rising demand for attorneys with advanced technical degrees, most often with Ph.D.'s. Litigation has traditionally been a very dynamic practice in Minneapolis, and firms are always looking for talented litigators.
After years of obscurity, Minneapolis and St. Paul are finally trendy, thanks to the efforts of talent like Prince, Garrison Keillor, the filmmaking Coen brothers, and former Governor Jesse "The Body" Ventura. Then there's the thriving local music scene. Husker Du and the Replacements are local legends. For the artist currently known as Prince, Minneapolis is home to Paisley Park studios and the assembled New Power Generation. All genres of live music can be heard nightly in venues ranging from First Avenue/Seventh Street Entry and Mayslack's Polka Lounge.
Minneapolis is also the home of the mother of all malls: The Mall of America, the country's largest indoor-shopping facility. This mall houses more than 500 stores, 70 restaurants, 14 movie screens, a wedding chapel, an 18-hole mini-golf course, a gargantuan aquarium, and a Camp Snoopy amusement park, all under one roof. With 42.5 million yearly visitors (more than Disney World, Graceland, and the Grand Canyon combined), it's the U.S.A.'s fifth most visited attraction. This mini-city lies in the southern suburb of Bloomington, a short drive from downtown Minneapolis. The airport is also nearby, so shoppers can jump from in-flight meals to in-store deals.
Minneapolis is ranked second in the country for live theater per capita. The Walker Art Center is internationally acclaimed and has been a creative hub for the city, hosting a modern art museum, a sculpture garden, and the Cowles Conservatory. Those interested in performance art also have plenty of options. For starters, the Twin Cities metro area supports 100 theatre companies, bringing their productions to more than 30 venues. The oldest of these is the Old Log Theatre, originally the home of a summer stock company that opened in 1940. Twenty years later, the theatre underwent major renovations and began year-round operations. For those who enjoy a good meal with their entertainment, the Chanhassen Dinner Theatre, just outside of Minneapolis, can't be beat. This is the largest dinner theatre in the country. The company first opened in 1968 with 90,000 square feet and has been growing ever since. In 1970, the company began a production of "I Do! I Do!" Twenty-two years later, it became the longest-running original cast production in the history of theatre.
There are 2.4 million people in the Greater Minneapolis/St. Paul metropolitan area, but Minneapolis wins the population race with 368,400 residents. The strong Scandinavian strain in the cities' ancestry has not prevented them from constructing miles-long skyway systems. Residents can drive downtown, park, walk to work, go to lunch, shop, see a show, and return to their cars without once setting foot outdoors, a blessing in the blustery Minnesota winters. Minneapolis also has an impressive skyline, with almost 200 high-rise buildings. Of the more well known, the 225 South Sixth high-rise is one of the more remarkable. It took architects and builders four years to complete the 776-foot-tall post-modern skyscraper, which now houses offices and a parkade. Originally designed as the headquarters of First Bank, the building changed its name when its residents moved to the Nicollet Mall. Equally impressive by day or when lit up at night, 225 South Sixth is among the most prestigious properties in Minneapolis. The is true of the nearby IDS Tower, which is technically the tallest building in the city because of the rooftop antennae that reach 910 feet, although the usable structure is actually one foot shorter than 225 South Sixth.
Minneapolis, according to Sperling's BestPlaces report, "has more parks than Denver; more golfers per capita than any other city in America; and with 10,000 lakes in the state, Minnesota has more coastline than California, Florida, and Hawaii combined." The Twin Cities offer almost 1,000 lakes, beaches, and ski resorts in the surrounding metro area, as well as many parks and gardens. The Minneapolis Sculpture Garden is also sure to impress people of all ages. The land of this former military parade ground was prepared and enriched for elaborate military gardens by the mighty Mississippi River. In 1933, the military buildings were torn down, and the gardens became the responsibility of the city. In 1988, Minneapolis brought in the Walker Art Centre to develop the area, then being used for baseball games, as a sculpture garden. Today, the 11-acre living gallery is the largest sculpture garden in the United States.
The trendy Warehouse District, northwest of downtown, is home to top-flight restaurants, art galleries, and shops housed in old brick warehouses. The Riverfront district, particularly the area just north of downtown, is a scenic stretch of river, lined with old warehouses and walking trails. Bookstores and bars, sorority and fraternity houses all crowd student-filled Dinkytown, a riverfront district that abuts the University of Minnesota. A host of new ethnic restaurants is rapidly opening in downtown Minneapolis, shaking off the Scandinavian and German influences of rather conservative cuisine. Choices range from Caribbean coconut chicken curry with black beans to Italian pasta and pizzas. Numerous hamburger bars are dotted throughout the city. As you would expect in this "City of the Lakes," seafood is a specialty, with dishes such as lobster, red snapper, and salmon readily available. The restaurants, cafes, and bistros set in renovated buildings in the old St. Anthony area are also well worth visiting.