It is hard to tell based on your question whether you are anticipating the possibility of not making partner someday, or have actually been passed up for partner at your current firm.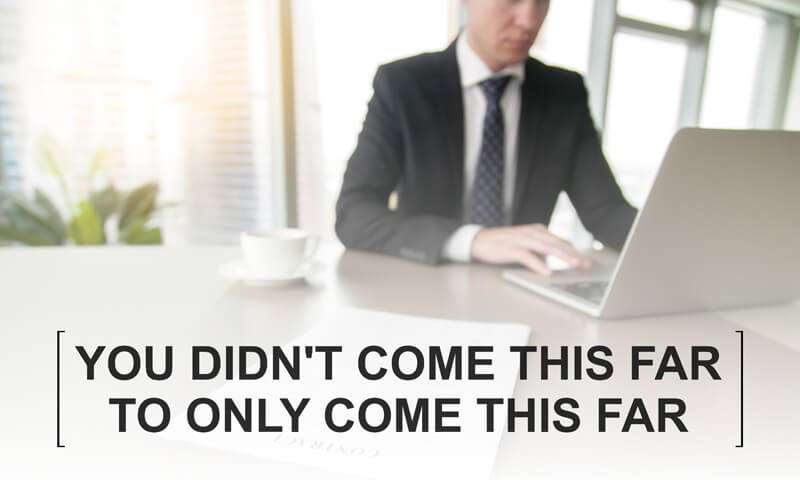 Suppose you spend 7 years at a law firm and don't make partner. I know that not making partner does not always mean that you did crappy work, especially if they kept you there for 7 years. But where can a person take their career at that point. Do you leave? Are your chances of making partner anywhere greatly  diminished? Suppose you don't want to be an in house counsel for a corporation.

It is hard to tell based on your question whether you are anticipating the possibility of not making partner someday, or have actually been passed up for partner at your current firm. Either way, you should remember that the partnership track is different from firm to firm. Some firms do make decisions about partnership after 7 years, however, many firms have partnership tracks based on 8, 9, 10 or 11 years. At a firm with a track of 10 years, it would not be at all unusual to be a 7th year associate who was not yet up for partner. In that situation, the fact that you aren't a partner would not be any indication that there is something wrong with your lawyering skills or your professional development.

Preparing for Partnership However, if the partnership track at your firm is 7 years (as I suspect it may be, based on your question), it may be an indication that the firm does perceive that there is something lacking. Your work may be excellent, but it may be that you have not developed any business, or have not shown enough management potential. Of course, that's entirely speculation. Regardless of why an attorney does not make partner, it would be highly unusual for a lawyer to spend his or her career with one firm, and over the course of seven years, not get any feedback on whether the firm felt that the associate was 'on track' for partnership. In essence, your path to partnership should be fairly well defined both by you and by the partners at your firm. If you start considering what the issues are surrounding the partnership track for the first time after 7 years, you are coming a bit late to the game.

You stated that whether a lawyer makes partner is not necessarily an indication of that lawyer's abilities. Again, depending on the firm, that is probably true. Some firms hire many associates, and only intend to give a relatively small percentage of those associates offers of partnership. In these cases, it is not unusual to not be elected partner, and as such, is generally not an indication that an attorney is not skilled.

Passed Up For Partner? Reevaluate What do you do if you don't make partner? Let me answer your question in two ways. First, a lawyer who doesn't make partner at 7 years should immediately set about finding out what his or her firm's criteria are for making partnership decisions. 'What is it that I can be doing to prove to you that I am worthy of this position?' should be the first line of dialogue. It may be that a firm wants to see more business development. It may be that there are concerns about the lawyer's work. In any event, it is not sufficient to sit back and simply wait to hear whether you will ever become partner. Although you would have ideally started dealing with these issues years before, there still may be time to define what hurdles you need to jump to get where the firm wants you to be.

Life Outside Partnership In the event that the firm's management has made it clear that you will never be a partner, should you leave? That depends. Are you happy and fulfilled at the firm? Are there alternative designations or titles that might make you happy, such as 'of counsel' or 'senior associate?' In that event, there may very well be every reason in the world to stay with your firm. Many firms accommodate senior attorneys who are not partners, and those types of relationships are often quite successful. In fact, there are many attorneys who would rather practice in this sort of a role than as a partner of the firm.

However, if it is your goal to become a partner at a law firm, and your current firm isn't going to provide that opportunity, you may want to try to switch firms. Whether you can readily change firms depends on any number of factors, including your location, your practice area, and your portable book of business. In our experience, a portable book of business is the single most important issue for many firms looking to bring on a senior level associate. Without portable business, whether you can readily move from firm to firm is really dependent on a variety of other factors. In any event, we believe that attorneys should focus on partnership issues as soon as possible. Most firms begin reviewing associates 4-6 years into their practice specifically with respect to whether the associate is capable of becoming a partner in the firm. You should strive throughout your associate career to find out what benchmarks you need to be meeting in order to reach that goal. If you do not reach that goal at your current firm, all is not lost, and you need to evaluate how you would fit into another law firm practice in the future.
Click here to contact Harrison
About Harrison Barnes
Harrison Barnes is the founder of BCG Attorney Search and a successful legal recruiter. His most recent contribution to the legal community is Outplacement Attorney Resources (
OAR.com
), which directly teaches attorneys and law students the best ways to find legal jobs. Harrison is extremely committed to and passionate about the profession of legal placement.
His firm BCG Attorney Search has placed thousands of attorneys
. BCG Attorney Search works with attorneys to dramatically improve their careers by leaving no stone unturned in job searches and bringing out the very best in them.
Harrison has placed the leaders of the nation's top law firms
, and countless associates who have gone on to lead the nation's top law firms. There are very few firms Harrison has not made placements with.
Harrison's writings about attorney careers and placements attract millions of reads each year.
He coaches and consults with law firms about how to dramatically improve their recruiting and retention efforts. His company LawCrossing has been ranked on the Inc. 500 twice. For more information, please visit
Harrison Barnes' bio
.
About BCG Attorney Search
BCG Attorney Search matches attorneys and law firms with unparalleled expertise and drive, while achieving results. Known globally for its success in locating and placing attorneys in law firms of all sizes, BCG Attorney Search has placed thousands of attorneys in law firms in thousands of different law firms around the country. Unlike other legal placement firms, BCG Attorney Search brings massive resources of over 150 employees to its placement efforts locating positions and opportunities its competitors simply cannot. Every legal recruiter at BCG Attorney Search is a former successful attorney who attended a top law school, worked in top law firms and brought massive drive and commitment to their work. BCG Attorney Search legal recruiters take your legal career seriously and understand attorneys. For more information, please visit
www.BCGSearch.com
.