Where Are the Women in the Top Tiers?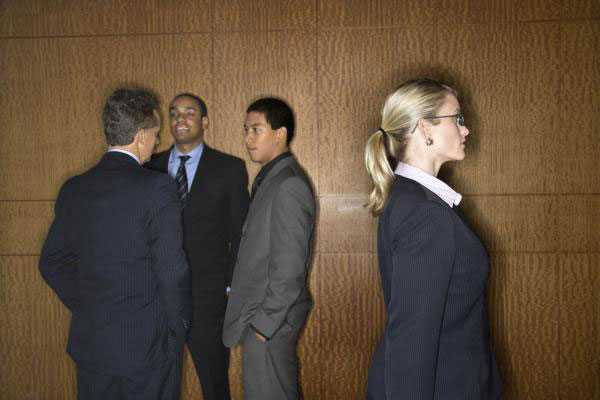 We all know the statistics: Record numbers of women are coming out of law school today. So, not surprisingly, record numbers are starting out as new associates at law firms. But when it comes to making partner and leading the firm, the numbers aren't so ground-breaking.
In fact, they're downright dismal. Nationwide, only 17 percent of partners at large law firms are women. Even more disappointing, that percentage has remained about the same for almost 20 years.
After years of hoping that the rising number of female associates would translate into more women leaders, the big law firms are realizing that they need to do more to make it happen, so they're coming up with programs that aim to have a real effect.
BRING ON THE RAIN
Does it matter that the top tiers of law firms today look a lot like they did when Madonna first hit the charts and Ronald Reagan was president? It matters, of course, to women, who say they want the same kind of training and encouragement to become the leaders and rainmakers as men receive. Historically, that has not happened.
But it also matters to the large law firms, which are realizing that it's a huge waste of resources to lose promising female attorneys again and again. Keeping women attorneys is about simple economics, says Keith Styles, managing partner of the D.C. office of
Robins, Kaplan, Miller & Ciresi
. "Firms should care [about promoting women] because there is a measurable economic cost to a law firm when any attorney leaves, regardless of the person's gender or race."
That sentiment was seconded in a white paper, issued this spring by
Dickstein, Shapiro, Morin & Oshinsky
, that asserted that placing women in leadership roles gives firms a "competitive advantage," according to authors Linda Kornfeld, managing partner of the firm's Los Angeles office, and Robin Cohen, managing partner of the firm's New York office.
And, of course, firms are increasingly feeling pressure from their clients, who demand attorneys who look like them. As corporations make commitments to diversity, they say they want outside counsel who have made that commitment, as well. (In fact, insisting on outside counsel with diversity credentials may be one of the ways that corporate America goes about proving its own diversity credentials.) And that's when the bottom line shows up again: If law firms don't take diversity seriously, the fear is that clients will move their business to a firm that is more closely aligned with their values.
"As corporate America is more focused on diversity as a strategic business priority and as women hold a greater number of decision-making roles in corporate legal departments, clients are now questioning the quality of law firms' commitments to increasing diversity in more concrete ways," says Linda Bray Chanow, until recently a lawyer at
WilmerHale
who has spent many years promoting gender diversity in law firms.
Chanow's years of work on the problem actually illustrate just how difficult it is. WilmerHale's numbers do beat the national average - a little. According to the
National Association for Law Placement
, the firm's national numbers for 2005 include 235 male and 59 female partners - that's 20 percent women. Chanow has recently moved to the consulting firm Shannon & Manch as a senior consultant heading the diversity and women's leadership practice.
WHAT'S THE PROBLEM?
So with all the talk about improving the numbers, why are women still hitting their heads on law firm glass ceilings? It just might be more than a question of whether women can get home to their families at a reasonable hour. In fact, some gender-diversity advocates say the bigger problem is what happens in the day-to-day flow of law firm life. Too often, as senior partners dole out assignments and choose associates to help them, they assume, incorrectly, that because of family responsibilities, women are not as committed to their careers as men. As a result, they avoid offering women attorneys the chance to take on sophisticated legal work or the necessary training to become rainmakers. (And if this sounds familiar, it should: Minority lawyers have complained that they face the same subtle barriers to advancement.)
It's not that the big firms aren't officially trying. Joan Williams, head of the
Center for WorkLife Law
at the University of California, Hastings College of Law, says, "Many firms are doing one or two things right." But she adds, "Few are doing enough to change their firm's culture in order to make it more likely that talented women and men have the same chances to become partner."
Williams, who is also co-director of the center's Project for Attorney Retention, believes that for more women to succeed at large firms, firms must take specific steps to involve women in client meetings, networking, and leadership training - things that men have done for other men for decades.
Ellen Ostrow, an attorney career consultant in Silver Spring, Md., says women cite two main reasons for leaving life in large law firms: the scheduling conflicts that arise after they have children and, even more important, the lack of real opportunities for training and networking that they believe only got more scarce after they took on the added responsibilities of motherhood.
FLEXIBILITY MATTERS
Firms are trying to come up with solutions to both aspects of the problem. Some of them are focused on the whole question of work-life balance.
For example, just a few months ago, Kirkpatrick & Lockhart Nicholson Graham rolled out what it calls a "balanced hours" program, which is designed for attorneys, male or female, who need a more flexible schedule. Attorneys can telecommute or work a part-time schedule when personal responsibilities draw them away from the office.
But getting that flex-time schedule requires more than just saying, "I need to be home in time for dinner." According to Roslyn Pitts, the balanced-hours coordinator at Kirkpatrick, an attorney interested in devising an alternative work schedule must submit a formal, detailed proposal justifying the request, outlining the proposed work schedule, and analyzing the effect of the change on both clients and other attorneys in the firm. Pitts then acts as a liaison between the lawyer and management to negotiate the request and to make sure that attorneys who work outside the office for part of the week stay in the loop on important legal and administrative issues. Pitts believes this formalized process helps everyone involved have a clear understanding of work expectations.
She declined, however, to comment on how many attorneys have asked to take advantage of the program.
Similarly, WilmerHale recently formed a Work/Life Balance Committee, headed up by legal heavyweight Jamie Gorelick and partner Lisa Pirozzolo. WilmerHale's program includes emergency day care, part-time or flex-time options for mothers returning to the workplace, and the option to take up to one year unpaid leave after a child's birth with the guarantee that an
attorney's job
will still be waiting. "The key to our future as a global law firm is hiring and retaining the very best talent, and that includes the 50 percent of law school graduates who are women," Gorelick says. "The key to doing that is not just having a best-in-class policy, which we have, but for everyone - from the most senior partners on down - to embrace them so that they work for all lawyers."
And Hogan & Hartson's part-time program has resulted in 9 percent of the partners at the firm working part time. That's compared with 7 percent of part-time partners at other D.C. firms, says partner Linda Oliver.
Whether these work-life-balance programs will be enough to stem the tide of women attorneys leaving large law firms is unclear. What is clear, according to Daniel Binstock of BCG Attorney Search, is that they are effective tools in attracting lateral women candidates.
"When I talk with prospective candidates about a firm, if it has a good flex-time program, women attorneys express more of an interest. These programs are one of the most important recruiting tools right now, especially for women attorneys," says Binstock, managing director of BCG Attorney Search's D.C. office.
Many of these programs are still in their infancy, so it's too soon to gauge whether they are working to increase the numbers of women partner candidates. In any case, solving the flexible-hours problem won't do enough.
If firms really want to stop the hemorrhaging, says Ostrow, the career consultant, they need to provide women with the same networking opportunities that have historically been given to men.
LEADERSHIP MATTERS MORE
Some firms are working on that. WilmerHale, for example, has initiated a women's forum to network and discuss career-development issues. And the Women's Leadership Initiative at Howrey provides training, mentors, and other forms of help to women on the track to partnership.
A May 2006 report from the Women's Bar Association of the District of Columbia contends that it is precisely this type of initiative, rather than the work-life-balance programs, that ultimately will convince women that firms are serious about helping them go the distance to partnerships and firm leadership roles.
The report, Creating Pathways to Success: Advancing and Retaining Women in Today's Law Firms, found that women will continue to leave if their firms can't find ways to sufficiently acknowledge their contributions, provide more equal access to high-quality work assignments, and view work-schedule flexibility not as an accommodation but as an acknowledgment of the changing work environment in all businesses today. The report came out of a series of meetings of law firm partners and senior associates, who met in groups over a four-month period earlier this year to discuss the challenges, the common current strategies, and ways to advance women lawyers. More than 230 men and women from firms, along with moderators from the Women's Bar Association of the District of Columbia, weighed in.
According to Styles of Robins Kaplan, firms are losing more than just the resources they've committed to training and grooming attorneys when women leave firms for other
employment options
. "The cost to law firms when women leave is lost opportunities," she says, including the chance to practice with a range of attorneys, to hear different perspectives on client matters, and to work with women in leadership positions.
Women lawyers agree and say it's time for firms to put some real resources behind those sentiments.