01/14/2022
Benesch Adds 3iP and Intellectual Property Litigation Associate in Cleveland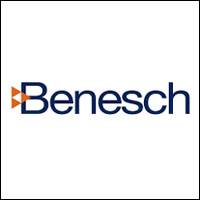 Benesch welcomes Lidia C. Mowad as an associate in the firm's 3iP Practice Group in Cleveland. Lidia focuses her practice on 3iP and Intellectual Property Litigation. Lidia's practice covers both litigation and transactional work, focusing on copyright, media, entertainment, trademark, trade secret, privacy, and patent law. She has experience in handling complicated litigation matters in these areas in federal and state courts, and in counseling clients regarding strategic protection, content risk, and compliance issues.
Lidia previously worked at the Ohio Attorney General's Office Executive Agencies Section, where she represented executive officials, departments, and agencies at all stages of civil litigation in trial and appellate proceedings, in state and federal court.
In addition, Lidia interned for NBCUniversal in Los Angeles, where she assessed entertainment content for legal risk for intellectual property, First Amendment, and right of publicity. She reviewed film footage, scripts, live performances, and other content for potential claims, and suggested revisions with an eye toward limiting or removing risk. She also drafted a variety of licensing agreements and employment contracts to facilitate creative content. Lidia also served as an extern for the Federal Trade Commission in Cleveland, conducting investigations and initiating litigation in areas such as false advertising, data breach, and identity theft. By understanding the creative process as a musician and lawyer, Lidia works to give creators and intellectual property the unique protection that they need.   
Lidia received her B.A. from Ohio Wesleyan University and her J.D. from Case Western Reserve University School of Law.
Want to read more law firm news?
For past editions of our weekly law firm news, click here.
---
Contact Our Recruiters Now!