05/28/15

The Trial Against Dewey's Leaders Begins

When a firm of Dewey & LeBoeuf's size and stature does the unthinkable and collapses, costing investors and creditors $200 million, you had better believe somebody is going to get sued, no matter how innocent the crash. That, at least, is the narrative of the defense in a case taking place in a New York state court where prosecutors are claiming that three former executives of Dewey are guilty of "[directing] a fraudulent scheme" to deceive lenders and investors that Dewey was doing well. Former firm chair Steven Davis, onetime executive director Stephen DiCarmine, and ex-chief financial officer Joel Sanders are on trial.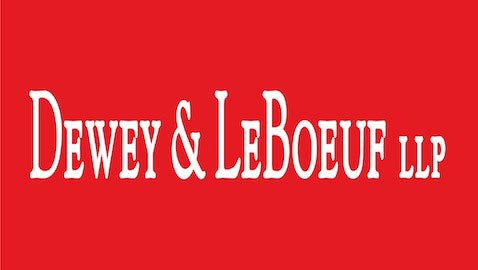 The prosecutors are claiming fraud, that these executives ordered false financial statements to be made that influenced the bond prospectus. The defendants face 100 criminal counts of larceny, scheming to defraud, falsifying business records and conspiracy.
The defense, meanwhile, aims to prove that any accounting misconduct is the doing of subordinates, and besides, Dewey collapsed due to a double whammy between the recession and key lawyers exiting in 2011 and 2012.
Seven former Dewey employees have agreed to cooperate in taking down the big guys, with finance director Francis Canellas at the front, accompanied by former controller Thomas Mullikan, former accounting manager Victoria Harrington, former director of budgeting and planning Ilya Alter, and so forth. For their cooperation, Canellas will serve two to six years in prison, while Mullikin will serve five months in jail, and the rest will receive community service.
Opening statements were made Tuesday, and the trial is expected to stretch across four to six months, covering 1.5 million pages of emails and documents, and involving 79 witnesses.
Assistant district attorney Steve Pilnyak made the opening statements, quoting a few suspicious emails written by the three executives that suggested they intended to dupe investors.
Davis' attorney,
Elkan Abramowitz
, of Morvillo Abramowitz Grand Iason & Anello countered such claims saying, "the firm failed for reasons having absolutely nothing to do with misbehavior in the accounting department, which Mr. Davis did not know about and did not condone. The firm failed because too many partners left, taking significant clients with them…Despite their attempt to squeeze meaning out of a few emails, the people do not have a shred of evidence."