03/17/15

DLA Piper Hires Delaware Supreme Court Justice Ridgely
Keeping up with their aim not only to have on staff the best accredited lawyers the market has to offer, but apparently hoping to staff some interesting figures as well, global firm
DLA Piper
has recently welcomed
Justice Henry DuPont Ridgely
to join their Corporate and Litigation practices in their Wilmington, Delaware office. As of January 31, 2015, Ridgely has retired from the
Delaware Supreme Court
after an especially distinguished career.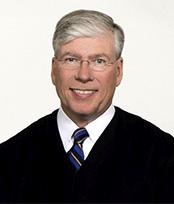 He will be joining Piper and offer his services advising corporations, boards, and so forth on transaction structure, fiduciary duties, and managing and defending litigation.
"Justice Ridgely's knowledge and experience will be invaluable to our corporate clients and lawyers," said global co-chairman of
DLA Piper
Roger Meltzer.
Jay Smith, chairman of Piper's US Corporate practice, further said, "It is an honor to have Justice Ridgely join us. With 66 percent of Fortune 500 and half of all public companies incorporated in Delaware, he has played a significant role in shaping the country's corporate law."
His role in all this began after he received his B.S. in Business Administration from Syracuse University in 1971 and his J.D. from
The Catholic University of America Columbus School of Law
in 1973. Since then he has of course served his 30 years on the Delaware bench, receiving various honors, and filling various offices, with a high point of receiving the Order of the First State, the highest recognition awarded by the Governor of Delaware.
During his time on the bench he has played a role in over 700 published opinions, including most of anything impacting corporate law brought forth at the time.
"It was an honor to serve on one of the world's preeminent judiciaries and, as I move to the next phase of my career, I am equally honored to be joining one of the world's most respected business law firms," said Ridgely. "For many years, I have known and respected several of
DLA Piper's
Delaware lawyers, and I am looking forward to now being one of their colleagues."
Summary:
Global firm DLA Piper has recently welcomed Justice Henry DuPont Ridgely to join their Corporate and Litigation practices in their Wilmington, Delaware office.
Image credit: courts.delaware.gov
Want to read more law firm news?
For past editions of our weekly law firm news, click here.
---
Contact Our Recruiters Now!