The new office for
Covington & Burling
opened on Monday morning at CityCenter, according to a press release from the firm.
The firm employs more than 1,100 lawyers and staff in Washington and has more than 420,000 square feet of space in two connected office towers at CityCenter.
The new building has been certified as LEED Gold by the U.S. Building Council.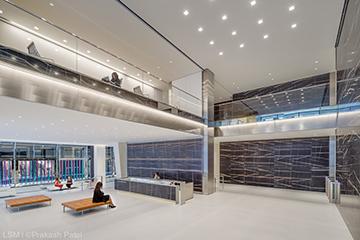 "We have moved to a vibrant neighborhood and an office space that is designed to promote teamwork, collaboration and community among our office in Washington and around the globe," said Timothy Hester, chair of the firm's management committee. "The new design is more open and bright, advances our use of technology and allows us to connect better with one another."
The executive director of the firm, John Waters, said, "Our new space was designed with an eye on workplace quality, enhanced efficiencies, and providing first-rate support for our clients. We are able to fit more people into a building that is virtually the same size as our old space by using innovative design and technology to create visual openness and offices that are ergonomically correct. And we have plenty of room to grow."
The firm's space at CityCenter has a pro bono wall, conference rooms and a mock courtroom that honors four of the firm's late partners. The four late partners include Dean G. Acheson, one of the first associates and former Secretary of State; Charles F.C. Ruff, who launched the white-collar practice at the firm and worked as White House Counsel; Edward B. Burling, a co-founder of the firm and Howard C. Westwood; who helped develop and fund legal services programs.
The firm's new space was designed by LSM. The last move by the firm in Washington happened in 1981 when it became the anchor tenant at 1201 Pennsylvania Avenue, which was part of the Pennsylvania Avenue Redevelopment Authority.
"The firm was widely viewed as a pioneer in placemaking in the early stages of the revitalization of Pennsylvania Avenue between the White House and the Capitol," said Debra Lehman Smith, a partner at LSM.
"Covington is doing this once again with its move to the transformative development at CityCenter," Smith said. "The new office space celebrates the features of Foster's buildings, with active interconnections between the office towers, visual permeability from inside to out and ground-level artwork that engages the community. As Covington approaches its 100th anniversary, it again adds a terrific new chapter to its story of Washington leadership."
Summary
:
The new office for Covington & Burling opened on Monday morning at CityCenter.
Want to read more law firm news?
For past editions of our weekly law firm news, click here.
---
Contact Our Recruiters Now!