11/18/2020
Paul Hastings' Global Growth Streak Continues with Addition of Leading Energy and Environmental Partner Duo in San Francisco
Summary:
Their arrival continues the firm's strong growth across its global platform this year, following lateral additions in London, New York, Paris and Los Angeles.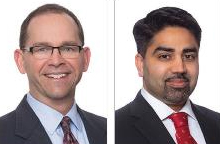 Paul Hastings LLP, a leading global law firm, announced today that energy, environmental, and infrastructure lawyers Chris Carr and Navi Dhillon have joined the firm as partners, based in San Francisco. They join from Baker Botts. Their arrival continues the firm's strong growth across its global platform this year, following lateral additions in London, New York, Paris and Los Angeles.  
"Our clients turn to us to guide them through all aspects of their U.S. and global real estate and infrastructure development projects—from M&A, financing and tax to complex regulatory issues," said Seth Zachary, Chairman of Paul Hastings. "The addition of Chris and Navi deepens our capabilities in the regulatory space, particularly with their extensive litigation, environmental and energy development expertise."  
"Navi and I are very excited to join some of the top practitioners in this space to create the market-leading energy, environmental and infrastructure team in California," said Mr. Carr. "Together with our new colleagues at Paul Hastings, we have the breadth of experience and deep capabilities to handle the most complex projects across the state."  
Mr. Carr is widely regarded as one of the leading energy and environmental lawyers in the United States. He previously worked on environmental and natural resource issues for the U.S. Department of the Interior and the U.S. Department of State, and headed Morrison & Foerster's Global Energy and Environment Practice Group. He brings more than two decades of experience securing controversial regulatory approvals for complex energy, infrastructure and natural resources development projects, ranging from wind, solar and battery energy storage to water conveyance, tech campus, logistics center and other commercial real estate, to timber, agriculture and fisheries.  
Mr. Dhillon focuses on complex litigation and regulatory matters. He is widely regarded as a go-to litigator for high-stakes disputes involving natural resources, energy, and disputes with federal and state agencies. A trusted advisor to clients across diverse industries—including infrastructure, energy, hedge funds, mining, timber, agriculture and technology—Mr. Dhillon combines deep knowledge of substantive and procedural rules with keen business judgment to help his clients solve their most important problems. He regularly advises clients on a range of sensitive business concerns, from securities, corporate governance, land use, and water pollution, to class actions, fraud, and unfair competition. He handles all aspects of civil litigation in federal and state courts across the United States, and as lead counsel has litigated a range of cases to judgment.  
Their arrival continues Paul Hastings' strong lateral growth across its global platform. Over the past 18 months, the firm has welcomed more than two dozen partners, including Energy and Infrastructure partner Derwin Jenkinson in London; Private Equity/M&A partner Arthur de Baudry d'Asson in Paris; Finance and Restructuring partners Peter Hayes and Mei Lian in London, Guilhem Bremond in Paris, James Grogan in Houston, Justin Rawlins in Los Angeles, and Philip Ratner in New York; Investigations and White Collar Defense partners Nathan Sheers and Peter Lindsay in Washington, D.C., Shaun Wu in Hong Kong, and Haiyan Tang in San Diego and Shanghai; Entertainment and Media Litigation partners Bo Pearl and Steven Marenberg in Century City; Employment Law partner Jeff Webb in Los Angeles; Privacy and Cybersecurity partner Aaron Charfoos in Chicago; and Antitrust and Competition partner Camille Paulhac in Paris.
Want to read more law firm news?
For past editions of our weekly law firm news, click here.
---
Contact Our Recruiters Now!