10/10/18
Carothers DiSante & Freudenberger LLP Announces New Orange County Location and a Trio of New Attorneys
Orange County, CA is the new home of
Carothers DiSante & Freudenberger LLP
(CDF), an award-winning employment, labor and business immigration law firm recognized for protecting employers with workforces in California.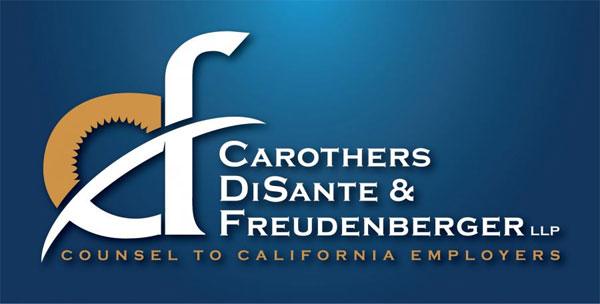 The new office space allows the 25-year-old law firm to continue to thrive and maintain its standing as one of the top employment, labor and immigration law firms in the state, but now in a more modern setting.  
The new Orange County location, one of five offices throughout California, is at 18300 Von Karman Avenue – one block away from its former office at 2600 Michelson Drive, where the firm was based for 21 years, and only two blocks away from where the firm started 24 years ago.
"From the first days of CDF in 1994, Central Orange County has been our home – as well as the epicenter of our statewide employment law practice," said Marie DiSante, CDF founding partner and firm managing partner. "While our Irvine address may be new, our corporate backyard has not changed, and we look forward to celebrating a quarter-century in business next year in our new location."
In addition to CDF establishing its new Irvine location are two newly hired attorneys Serafin H. Tagarao and Michael S. Armstrong.  
Serafin H. Tagarao brings experience in defending companies against class action claims, Fair Labor Standards Act collective actions and Private Attorneys General Act claims. Tagarao advises employers on matters of employment risks and contributes to federal and state compliance policies, including employer handbooks. Tagarao is a graduate of Loyola Law School, where he was the Chief Production Editor of the International and Comparative Law Review.  
Michael S. Armstrong is a graduate of the University of California, Irvine School of Law. Armstrong specializes in defending California employers against class actions and allegations of wrongful termination, discrimination and wage issues.  Armstrong conducts employment investigations and counsels employers on best practices in a variety of industries.  As an intern, Armstrong contributed to legal work performed in U.S. Marine Corps cases.
In addition to Armstrong and Tagarao, CDF announces the addition of Candace R. DesBaillets, to CDF's San Francisco office.  With an extensive background in critical gender studies,
DesBaillets
defends employers in individual and multi-plaintiff litigation matters, including discrimination, harassment, retaliation, contracts, employment-related torts and wage and hour claims. 
DesBaillets
is a graduate of the University of California, Berkeley, School of Law, where she was the Managing Editor of the Berkeley Journal of Gender Law & Justice and Vice President of Animal Law Society.
About Carothers DiSante & Freudenberger LLP
For close to 25 years, Carothers DiSante & Freudenberger LLP has distinguished itself as one of the top employment, labor and business immigration law firms in California. The firm represents employers in single-plaintiff and class action lawsuits and advises employers on related legal compliance and risk avoidance. 
CDF has offices in Sacramento, San Francisco, Los Angeles, Orange County and San Diego.
Want to read more law firm news?
For past editions of our weekly law firm news, click here.
---
Contact Our Recruiters Now!