02/09/17
Seyfarth Shaw Makes Big Addition to Their Immigration Capabilities
Summary
: Seyfarth Shaw LLP has welcomed the former director of U.S. Citizenship and Immigration Services at the Department of Homeland Security to their team.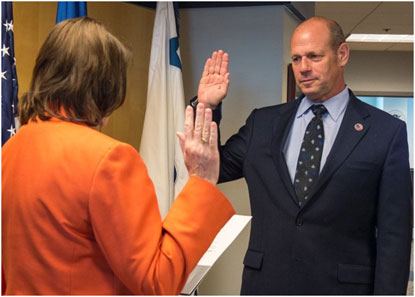 Seyfarth Shaw
Labor & Employment group in Washington D.C. has welcomed Leon Rodriguez to their team. As the former director of U.S. Citizenship and Immigration Services at the Department of Homeland Security, Rodriguez will be a valuable partner for the firm.
Browse Washington DC Attorney Jobs on BCG Attorney Search
In his role from 2014 to 2017, Rodriguez was responsible for administering all U.S. immigration matters such as processing of asylum and refugee applications, naturalization and visa petitions, and immigration benefits. He oversaw a workforce of 19,000 government employees in 223 offices around the globe.
Before becoming the director of the USCIS, he served as the director of the Office for Civil Rights at the U.S. Department of Health and Human Services between 2011 and 2014. There he was responsible for the enforcement of federal civil rights laws and the Health Insurance Portability and Accountability Act (HIPAA).
Chair of Seyfarth's Labor and Employment department,
Lisa Damon
, said, "As the head of two critical government agencies, Leon brings an unparalleled level of firsthand interagency experience to Seyfarth at a time when clients face unprecedented uncertainty from the federal government. He will immediately provide clients with unique insight into the rapidly changing immigration landscape, and we're excited to welcome Leon to the firm."
Co-chair of the firm's Business Immigration Group,
Russell Swapp
, added, " Seyfarth has spent the past decade architecting the industry's most sophisticated service delivery model for clients who rely on us to manage their global mobility needs, but we now see a changing landscape that will undoubtedly include greater worksite enforcement actions. We are, therefore, honored to have such an influential statesman and well-respected compliance litigator join our group. No one understands the full spectrum of immigration challenges facing our clients today quite like Leon."
Rodriguez also has experience as Chief of Staff and Deputy Assistant Attorney Generals for the Department of Justice Civil Rights Division, First Assistant U.S. Attorney and Chief of White Collar Crimes Section in the U.S. Attorney's Office for the Western District of Pennsylvania, and as a trial attorney for the Civil Rights Division at the Department of Justice.
Managing partner of Seyfarth's Washington D.C. office
Robert Bodansky
said, "Leon is the rare senior government official who combines experience, entrepreneurial spirit and a passion for his work that will benefit the firm and our clients in a variety of practices. As the Washington office continues to grow, Leon's presence not only adds depth and breadth to our existing practices, but also provides a unique perspective to those practices that few, if any, can match."
Rodriguez earned his J.D. from
Boston College of Law School
and his undergraduate degree from
Brown University
. He is also fluent in Spanish and French, skills that will be useful for clients.
Photo: flickr.com
Want to read more law firm news?
For past editions of our weekly law firm news, click here.
---
Contact Our Recruiters Now!