01/21/15

Fried, Frank, Harris, Shriver & Jacobson Closing Asia Offices
The law firm of
Fried, Frank, Harris, Shriver & Jacobson
will close its offices in Shanghai and Hong Kong and leave Asia entirely, according to The American Lawyer.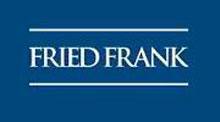 The offices will be closed by June 30 after firm chairman David Greenwald visited them to inform partners of the decision last week. The offices are operating at a loss.
The firm will keep service offices in both cities and will keep its Chinese practice license. But, the firm will not hire full-time attorneys in the region.
There are four partners and 10 lawyers working for the firm in Asia. The firm is negotiating with them to relocate to other offices, but many are expected to leave for other firms.
On Monday, the firm sent a memo to partners that said the following:
"We have spent much of this fiscal year conducting a rigorous evaluation of our overall business and are aligning the Firm to focus on our practice strengths in the US and Europe. As a result, the Governance Committee decided to substantially downsize our presence in Hong Kong and Shanghai."
"You can be assured that the decision to reduce our commitment in this region was not taken lightly, particularly since we continue to believe in the long term prospects of Asia. However, after reviewing our overall performance in this region and the current opportunities, we concluded that our growth potential in Asia was not sufficiently attractive from a commercial perspective without significant additional investment, and the Governance Committee determined that it is not the time to increase our investment in this region."
Fried Frank entered Hong Kong in 2006 when it nabbed nine partners from Simmons & Simmons. In 2007, the office in Shanghai opened.
Greenwald came back to the firm in October of 2013 from Goldman Sachs. He became sole chair when co-chair
Valerie Ford Jacob
resigned in April of 2014 following 11 years at the head of the firm. Greenwald previously worked at Fried Frank as a partner before moving to Goldman Sachs for 19 years.
Jacob has since joined
Freshfields Bruckhaus Deringer
.
Summary: The law firm of Fried, Frank, Harris, Shriver & Jacobson will close its offices in Shanghai and Hong Kong and leave Asia entirely.
Source:
The American Lawyer
Want to read more law firm news?
For past editions of our weekly law firm news, click here.
---
Contact Our Recruiters Now!