This morning, the New York City Bar Association held an event entitled, ''Rainmaking for Junior Women Associates: Now is the Time to Start. '' This event was sponsored by the Committee on Career Advancement and Management.
Panelist
Jill A. Steinberg
, a partner in the
New York
office of Arent Fox, began by stating that the first time anyone asked her for a business plan was the night before she was up for partnership at her firm in 2005. Now, she said, associates have to start thinking about their business plans three years before they are up for partnership.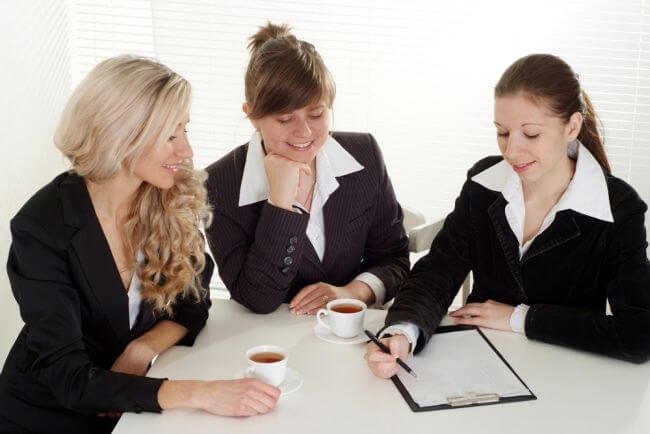 Panelist Melissa McClenaghan Martin, President of M3 Strategic Alliances, said that before the collapse of Lehman Brothers, women were telecommuting and it was just a different world before all of the massive layoffs. She said it's not good enough anymore to just be a good lawyer; you have to be excellent now and part of that equation is bringing in business.
The program concentrated on internal networking (within your firm) and external networking (trying to bring in business from companies).
Ms. Steinberg stated that internal marketing has been the most important for her personally in gaining clients. She stated that many of her clients are from relationships that she made at her firm as an associate with people at her firm who left and went in-house .
She said that finding a niche area in the law where you become that firm's "go-to'' person for that area helps with job security. She also recommended working with as many different partners as possible.
Panelist
Gail Howie Conenello
, a partner at K&L Gates, said that although it is important to work with as many different partners as possible, it is crucial to develop close relationships with one or two partners who will speak up for you when you are put up for partnership and whom can help you.
Ms. Steinberg agreed saying she has seen so many associates over the years form close relationships with partners who, unfortunately, could not do anything to advance their careers.
Ms. Martin added that in addition to finding partners who are willing to go to bat for you, you have to make sure that that they are partners that other people in your firm will listen to.
Ms. Conenello said it is important to be open-minded with respect to the kind of work that you take on. She is an environmental lawyer and noted that she never took an environmental law class at NYU Law School, even though it has an excellent program in this area. She thought that she wanted to be a litigator and she never thought about becoming an environmental lawyer but she was open to trying different areas of the law and now she loves her practice area.
Panelist Eve Birnbaum, who was legal director of the corporate practice at Proskauer for 11 years and was in charge of assigning matters there, advised not to be afraid to ask for the kind of work that you want. She said that when she was at Proskauer, she was delighted that associates knew what they were passionate about and any time she could accommodate them she would.
Ms. Martin quoted a study that found that male associates are more likely to go after work with their firm's most powerful partners and that female associates are more likely to go after "interesting'' work with partners who are "nice.''
She said, not that there is anything wrong with doing interesting work with nice partners but this is something to be aware of and that female associates should not be afraid of going after work with the most powerful partners at their firm.
Ms. Martin said that when she a litigation associate at Fried Frank, she was getting a lot of work from two of the most difficult, demanding partners at the firm, one of whom was a screamer. A lot of associates in general and women in particular avoided these partners like the plague and she admitted that it was not the most pleasant experience but said that she learned so much from them about how to write and how to think and said that this experience was really invaluable.
Ms. Conenello said that while women associates should not be afraid of going after work with the most powerful partners in the firm, she also cautioned against going after this type of work exclusively and said that that could be very transparent.
She advised to say yes to everything and to take on every assignment that you can. She said, "I can't tell you how many times I couldn't believe I went to law school to be standing at a rock quarry with a hard hat looking at contaminated dirt or standing in a conference room with three boxes of documents.'' But she advised that it is very important to be known at your firm as someone who is willing to do whatever is necessary to get things done.
Ms. Birnbaum agreed and said that she remembered which associates took the really ugly or nasty assignments and then when they would come to her and say, "My girlfriend just broke up with me. I need three days to be sort of under the radar,'' she remembered and accommodated them.
The program focused on a number of issues that are particular to women. Ms. Birnbaum spoke about female associates who "leave before they leave;'' women who are hesitant to take huge cases that are going to be 24/7 because they think they might get pregnant in two years.
Ms. Steinberg said that some women are planning too far in advance; that you never know what life will bring. She said she never would have expected that she would have become a partner in a law firm, with three kids, and a husband who is a stay-at-home dad. She said you just never know what will happen and so many women take themselves out of the running for partnership because they cannot conceive of these kinds of possibilities for their lives.
Ms. Conenello advised that some planning is important. For example, she knew that she wanted to be at a law firm for two or three or ideally four years to prove herself before she left to have a baby.
Ms. Martin spoke about a female colleague of hers who came back after she had a baby and was only assigned matters so that she could get out of work at 6 every day.
The colleague felt that this was sexist. She pointed out that her husband just had a baby also and was still being assigned really good work (that necessitated him staying later at the office).
She thought about it for about three weeks and then requested better work (that would necessitate her staying later).
Ms. Martin pointed out that this particular colleague was extremely pro-active about her career but that so many other associates would have just sat back, been too passive, and not gone after what they wanted and not asked for it.
Ms. Martin quoted a study where a job posting was posted with ten items that the poster was looking for in an applicant. The study found that men were likely to apply if they met 60% of the criteria whereas women were hesitant to apply unless they met 100% of the criteria.
Ms. Steinberg also said that she feels like when women are asked to speak on a panel about something, they are more likely to say, "Oh, I don't know everything about this. Maybe you should ask someone else,'' whereas male associates tend not to hesitate.
Ms. Conenello agreed and said that she had a conversation with a male colleague where she told him that he was really good at "winging it'' and he got offended. But she hadn't meant it as an insult. She said she feels like women tend to over-prepare for everything and should be better at and more willing to "wing it.''
Another point that Ms. Martin made regarding the gender gap is that one firm activity that women tend to gravitate towards is recruiting and summer associate events whereas she said men are more likely to play golf, go out for breakfast with a partner, or go out for drinks after work.
She said, if you are great at recruiting and you enjoy it, she is obviously not telling you not to do it but just to be aware that this is less helpful in terms of promoting your own career than more traditional male firm activities.
With respect to external marketing, Ms. Conenello shared that the first time she went to a networking event, she was so nervous, she didn't talk to a single person. And then she thought to herself, why did I even do that? What was the point? But she said, it's about taking baby steps. The next event she went to, she spoke to one person. And the one after that, she spoke to two people.
Ms. Birnbaum said that the budget for taking clients out sometimes tends to be on very male-focused activities such as basketball games. She said if you have an idea for an activity that is different such as the ballet, just ask and most of the time, the firm will say yes.
Ms. Steinberg said she is not a Yankee fan but so many of her clients, men and women, fly in from all over the country to go to the Yankee games on her firm's Yankee tickets. She said a lot of the clients aren't even Yankee fans or even baseball fans but people just have it on their bucket list that they want to go to a Yankee game.
She said that by stepping out of her comfort zone and embracing her firm's Yankee tickets and taking clients with her children and having the clients also bring their children has really strengthened a lot of her client relationships.
Ms. Martin said that 80% of clients come from people that you already know. She said that it typically takes seven to nine interactions with someone before they will give you business and it typically takes eighteen months to two years before this happens.
Ms. Steinberg said that many of her clients are people whom she has known for fourteen or fifteen years but they just became a decision-maker recently.
Ms. Martin advised not networking only with lawyers and said that lawyers are not the best networkers. She said that people who go to law school are more introverted whereas people who go to business school are more extroverted. She said if you enjoy women's networking events, she recommended an organization called 85 Broads.
Ms. Conenello said that with respect to networking, find something that you really enjoy. She said, "I don't play golf. I'm not learning it now. If I have five hours of free time, I'm not going to play golf. It's just not going to happen.'' She advised to find something that you are passionate about and it doesn't even have to be law-related, it could be a charitable organization.
Ms. Steinberg agreed and said she has made a lot of really great connections serving on the board of a non-profit.
Not surprisingly, all of the panelists seemed to agree that men are less hesitant than women to ask people for business. A woman in the audience asked the panel, "I have friends from college or law school who are in-house. They are people that I go out with on the weekends but we don't work together. What is the best way to bring up the topic of working together?''
Ms. Martin said that men are always talking about their professional lives all the time and women talk more about their personal lives.
Ms. Conenello agreed and said that she always feels like, oh, I don't want to impose on my friend whereas men feel like, if this person was my friend, he would be giving me this business and men are far less hesitant to ask them for it.
Ms. Martin said that you should start talking about work when you're hanging out with them on the weekends and ask them out to lunch, have the firm pay for it, say no pressure, but I'd really like to start working with you.
And if all else fails?
Ms. Steinberg said, "Play golf.''
Martha Flumenbaum, Esq.
is a recruiter at
BCG Attorney Search
.